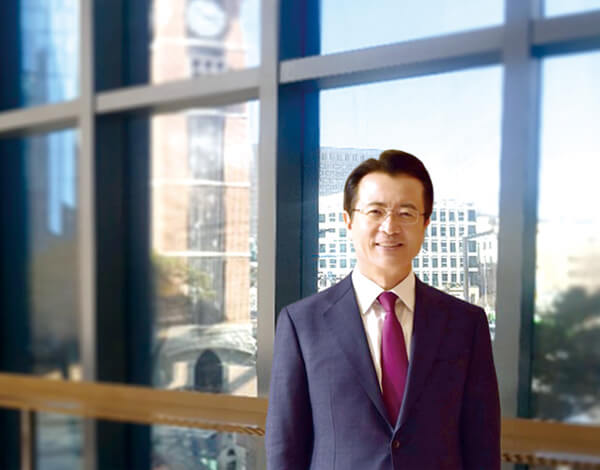 Introducing the Senior Pastor,
Jung-Hyun Oh

Rev. Jung-Hyun Oh is a passionate vision-maker who can't sleep a night without dreaming for God's kingdom. He always talks about dreams with a hope that says, "let therest of our lives not be worthless because our God is absolutely worthy," and he challenges Korean Christians to turn their "ordinary lives to be extraordinary lives" for God's sake.

In August of 2003, he started his new post as the second senior pastor of SaRang Church in Seoul and created a boom for 'Special Early Dawn Prayer Marathon' among Korean churches. The 40-day 'Special Early Dawn Prayer Marathon' led by the Holy Spirit ignited the flame of a life-changing prayer movement on top of SaRang's decades of discipleship training programs.
The special prayer meeting of SaRang Church was reported in the news by public broadcastings and brought a new sensation to Korean churches. SaRang Church constantly grew in numbers as well.

SaRang Church experienced a revival with the pastoral philosophy of Rev. Oh that provides a new vision for this ever-changing era. SaRang continuously practiced out mission effort for all nations and the world with her strong lay training ministry philosophy in practice for several decades.

Rev. Jung-Hyun Oh really focuses on each individual person's radical spiritual transformation although SaRang Church is a mega church. His passion extends to minister to global churches for church planting,serving the 21st century global churches with the help of the Holy Spirit which so empowered the early church during the 1st century.


Careers and Activitles
• Founding Pastor of SaRang Church in southern California (1988~2003)
• Senior Pastor at SaRang Church (2003~Present)
• Chancellor of Yunbian University of Science & Technology, YUST(1998~present)
• Chancellor of UNION Wales Campus (Wales Evangelical School of Theology) for Europe church plant ministries
• Principal of Disciple-making Ministries International (DMI)
• Chairman of the Korean Church Welfare Center.
• Publisher of Christianity Today Korea (2008)
• Chairman of Korea China Foundation (2011~Present)

Academic Career
• SoongSil University (B.A)
• ChongShin graduate school
• Biola University & Talbot Theological Seminary graduate school (M. Div.)
• Calvin Theological Seminary in Michigan (Th. M.)
• North-West University, Potchefstroom campus (Ph. D.)
• Studied at Harvard University (Resident Fellow)